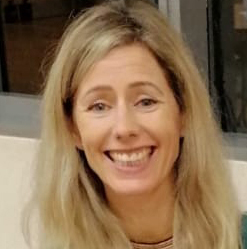 I started working in this field around 2010, after a career in graphic design, by volunteering and working with local services in Belfast.
This period coincided with a family members diagnosis of Aspergers Syndrome, which helped me to greater understand the needs of
both carers, those with learning disabilities and those on the autistic spectrum.
I worked as an Employment Officer and as a Skills Trainer supporting people with learning disabilities, difficulties and autistic spectrum conditions.
Then I  moved to Chester from Northern Ireland in October 2013 to live with my husband and step-son, and our beloved cat Sal who is the boss!
Soon after the big move, I started part-time work with a Charity to run the Peoples Choice Group. I now run the project together with my business partner Jackie. We met in 2014 through work when Jackie supported one of my groups to help them with some Easy Read feedback. We literally had a conversation one day about making easy read ourselves, out of this, we set up a Community Interest Company, See Communications CIC. This enabled us to apply for funding and continue with the Peoples Choice Group project together. The rest is history!
As well as running this with Jackie, I work for a local charity. I am a support worker for people with learning disabilities and autism.
I'm passionate about using my skills to help others. I'm learning all the time and no day is ever the same.
To get in touch:
Email: ali.peopleschoicegroup@gmail.com
Phone: 07746 422 282
Please note I do not work full time. I am contracted for 21 hours per week on this project and my hours vary throughout the week as necessary.
If I do not respond right away I will get back to you as soon as I can. Thanks for your patience.